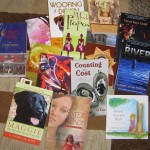 It's officially the start of the NovelRank Book Giveaway, brought to you by the kind and generous independent authors and publishers who use NovelRank every day to track their Amazon Sales Rank and promote their magnificent books! Over 12 books have already arrived, with others promised and on the way. I am very excited to get this started!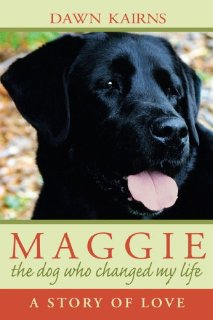 Without further adieu, the book giveaway kicks off with a wonderful paperback book, "MAGGIE: the dog who changed my life: A Story of Love". The author, Dawn Kairns, has been using NovelRank for a long time, and I was really thrilled to have her book drop into my mailbox first. Here's what one reviewer said about this 5 star book:
"This book is a deeply moving story of the powerful connection between the author and her soulmate dog Maggie… Maggie opens the author's heart and teaches her about trusting her intuition and listening with her heart. Interspersed with well-researched information about pet health care and advice on how to deal with the grieving process following the loss of a pet, this book shows us that animals are so much more than just pets… "
– Ingrid King
If you would like your chance of winning this book, add your email address to the form below. You'll be notified by email if you are the winner, and you will also be opting into a follow-up email to let you know when the next book in the giveaway becomes available.
This giveaway is closed. Check out the current giveaway.
Share the Book Giveaway with Others:
Share or
or http://www.novelrank.com/book-giveaway (will always be current)
The Rules
Any email address that is not valid will not be accepted. Any email to a temporary mailbox service (e.g. mailinator.com) will be disqualified and may be publicly mocked. Unless otherwise stated, only one book can be won. Multiple entries will not be accepted; don't make me turn on duplicate protection. The winner will be drawn randomly no later than the 3rd of the following month and contacted via email to receive shipping information. Winners who fail to respond to the email within 72 hours will forfeit their win to another random winner.
For Authors: Getting Involved
For more information about donating your book to the book giveaway, check out this introductory announcement post on the book giveaway idea.
Similar Posts: