I love RSS Feeds, and even moreso, I love the book sales RSS feed. It gives me an easy way to know when I last sold a book on Amazon, what domain it was on, and how many copies were sold. However some people don't know what an RSS feed is nor the benefits of them, so I decided to add a quick tip on how to get the RSS feed into your iGoogle homepage. This allows you to start your computer and browser and be immediately met with the recent sales information. You can even click through the links in the book sales results and see your page on NovelRank. Here are the easy steps.
Create your iGoogle page
Go to http://www.google.com/ig. You will then create a homepage or click the sign in link in the bottom left if you have a google account (I have a gmail account). All of these widgets can be dragged and moved around the page so you can get the most important stuff up top. You can also remove any you don't want to keep it from being too cluttered. There's lots to explore here, so let's just jump right into the next step.
Get your book sales rss feed from NovelRank
Go to your book's page on NovelRank. Click on the RSS Feeds box near the top to expand out the list of available RSS feeds.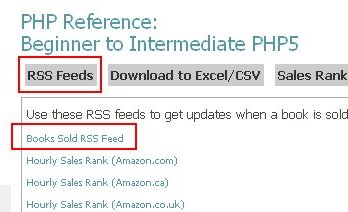 You can right-click on the Books Sold RSS Feed and choose "Copy Link Location" (Firefox), "Copy Link" (Safari), or "Copy Shortcut" (Internet Explorer) to copy the link to your clipboard. We'll be using it in just a moment.
Adding an RSS Feed to iGoogle
In the top-right of the iGoogle homepage, click the Add Stuff link. The next page has a ton of widgets, but you are interested in the Add feed or gadget link near the bottom of the left column. Click the link and it will expand to a box where you can now Paste in the link that you copied earlier.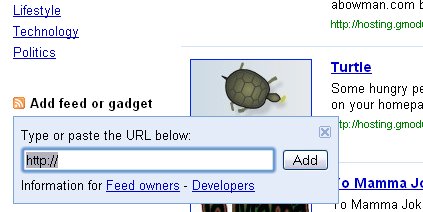 The link you are pasting will look similar to this (don't copy in this link, example only!):
http://www.novelrank.com/asin/143571590X/rss
Click the Add button and the small window will update to tell you it was successfully added. Click the « Back to iGoogle home link in the top-right. You will now see the new widget/box in the top-left with the contents of the RSS feed. Be advised that this box may be empty if there have been no sales yet tracked by NovelRank.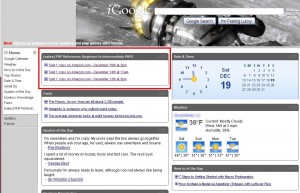 That's it! Keep selling your books!
Similar Posts: