Manually converting blog posts to an ePub e-book can be a fun experience that helps you understand the process of building your own e-book and converting it into ePub and mobi (Kindle) formats. This study is a single example that will talk about some of the tools and tricks used. If you are looking for a service to do this for you, check out Zinepal, online ebook creator.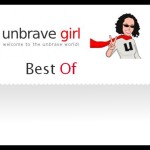 I recently visited a lot of travel blogs (100+) for a separate project of mine, and while reading many posts, only a few made me want to subscribe via RSS, and only one caused me to laugh out loud (LOL for those of you under 21). That travel blog was UnbraveGirl.com. The writer, Sally, had recently put up a Best Of section of the blog, which of course is the first place I went to evaluate her content. There are 20+ articles, and I decided I wanted to take them offline on my new Nook e-book reader. At the same time, I decided I could not only create the e-book for my own uses, but then give it to Sally for her to share with her readers; a thank you for the belly laughs.
The entire process took longer than expected; a total of 5 hours of work going through the copy/paste and find/replace procedure. However, the first step was to create an HTML file structure that could support the content and conversion process. On my personal blog, mariolurig.com, I've provided the sample code for building an ebook from HTML as well as more details on specific settings in Calibre to match the sample HTML code. However, when building your own HTML code, Calibre can do more work by automatically setting up your page breaks. Formatting the content with page breaks can be the single most challenging aspect of the conversion.
What is Calibre?
Calibre is a multi-platform piece of software for converting e-books between formats, which they describe in their FAQ. For the record, Mobi format is what is used by the Amazon Kindle. The ePub format is used by every other device.
The Easy Part of Converting a Website to E-Book
The easy part for this conversion is that the blog is simple a website of HTML, and thus perfect for copy/paste work. Viewing any webpage in your browser, you can right-click on the page and select the 'View source' option to see the HTML code. This allows you to copy and paste the content into your text editor. However, not all HTML is created equally or a good fit for an e-book.
Using and abusing Find and Replace
Depending on your blog theme, settings, and a world of other things, the HTML will probably contain many characters which are not e-book friendly. These include fancy quotes " ", fancy apostrophe ', ellipses …, em dash —, and much more. Now, some these can be used in an e-book, but only if they are using the proper codes in HTML. Here is a sample of some of the find/replace that had to occur for UnbraveGirl:
" " replace with "
' ' ' ' replace with '
… … replace with …
— — replace with —
& replace with &
These are called HTML Entities, and lists are available online such as here and here from W3schools.
What do you do about images?
Images should be downloaded manually in a size that is no wider than 600 pixels and no higher than 800 pixels. In the case of Unbrave Girl, the thumbnails that are used within the page were small enough. The files can be manually right-clicked and Save Image As… to save them to the same folder as the HTML file you are creating. Finally, the links within the HTML you copy and pasted will point to the images on the hosting server, such as http://wwww.unbravegirl.com/wp-content/uploads/image-name.jpg. This needs to be edited in the HTML so that the source (in an HTML image tag this is src) is simply to the image, such as src="image-name.jpg". This tells the HTML to look in the folder where you have saved the files, and allows Calibre to do the work of putting it all together.
What about a Table of Contents?
By structuring your HTML properly, making use of heading tags (e.g.
Your Heading
), Calibre can build your table of contents and even insert page breaks for each of your heading tags. This is the simplest method of building a Table of Contents. If you were to use the
documentation provided by Amazon
(PDF) for their Kindle, they describe building a Table of Contents using special HTML language that is only applicable for the Kindle. I found it best to not work from the Kindle to ePub, but rather start with ePub and then build the Kindle version (remember, .mobi format).
How to build the Cover
First and foremost, just like images before, the cover image should be 600×800 pixels. To build that image, use the images and materials from the blog itself to put together a simple cover image. UnbraveGirl's original cover image is pictured at the top of this post (she remade the final image on her own). It uses the same image and styling from her website as the inspiration and resources. The cover image is added into Calibre when you are entering in the metadata, such as Author, Title, Copyright, etc. You can build a cover using Picnik.com online or if you are on Windows, I strongly recommend the free and open source software Paint.net.
Final Words
This was a very fun project, and a testament to the quality level of automated tools, such as Zinepal, with which I have no affiliation. However, I am definitely impressed with their work. Of course, going through the process of building it manually will allow you a lot of flexibility and understanding of the product you will providing to your readers. In the end, it comes down to how involved you wish to be in the construction of the digital e-books created. A blog does not automatically make an e-book, but with a little bit of love, you can construct an e-book from your blog that is worthy of a $0.99 price tag.
Thanks to Sally, a.k.a. for permission to write-up this case study. To check out the e-book, go to UnbraveGirl.com.
Similar Posts: