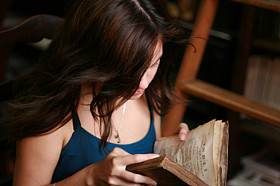 Let's face it, authors are the biggest readers (we call it research) and love reading books as much or more than writing them. More importantly, authors are always looking for ways to promote their book to an attentive audience. With this in mind, and a touch of crazy, NovelRank would like to start doing a monthly book giveaway, supported by books donated by authors like you who track their books on NovelRank.
Update: August 2011
Due to overwhelming response, and a balance of author benefit and time cost, NovelRank is no discontinuing the giveaway program in 2011. Thanks for participating!
Why would NovelRank do this?
NovelRank should be more than a one-trick pony, as some of the unique blog posts have aspired to do. To that end, I would love to also share and promote author's books in new and unique ways whenever possible. With some interest already from Rebecca Connell, Cami Checketts, Lisette Brodey, Cheryl Kaye Tardif, and Mike Dauplaise (with TitleTown Publishing), I think that this idea is ready to move forward.
What's in it for me?
Free promotion of your book? Isn't that what every author wants? Your book would be promoted to twitter, facebook, and the NovelRank blog, and all the while being adored by hundreds. On January 5th, NovelRank had ~100 unique visitors a day. On February 5th, this doubled to 200+ unique visitors. January 2010 had over 11,500 visits to the site. As you continue to spread the word, this will continue to grow.
Seems too good to be true; what does NovelRank risk?
Cold. Hard. Cash. Seriously, I'll be paying out of my own pocket to package and ship (anywhere in the world) the winner their copy of the monthly giveaway book. I also have to store all the books authors send to me until their time comes.
Anything else?
Not really. Oh, one last thing: I'm actually a slow reader because I'm busy (guess with what), so I won't be reading and reviewing every book before it is promoted. If you are looking for a review, I suggest LLBookReview.com.
Similar Posts: